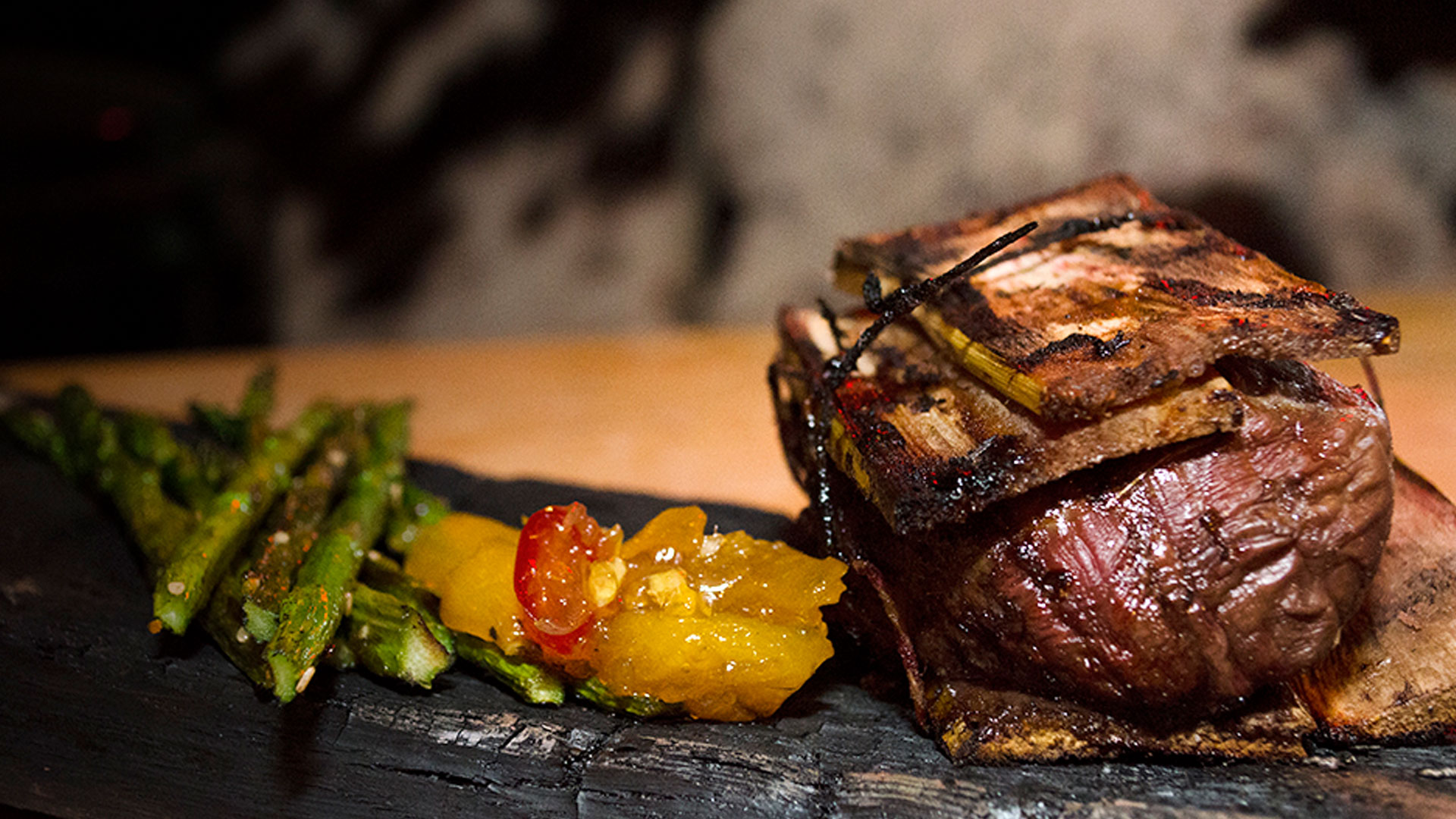 15 Feb

Beef tenderloin in sugar cane with mango chutney

The French name probably goes down well with guests: 'Tournedos grillé en papillote de sucre de cane'. A surprising dish with an oriental touch. The combination of sweet and savoury works wonders. The meat stays protected by the cane and the high temperature of the braai causes the (sugar) juices to boil and caramelise on the meat. The salty touch of soy sauce, the beautiful grilled flavours of the meat and the slightly bitter asparagus make this dish an absolute gem.

4 tournedos of approx. 180 grams
A dash of soy sauce (Kikkoman)
100 grams of green asparagus
Sesame seeds

 

1 mango
1 large onion
1 clove of garlic
½ red pepper
1 clove
150 grams of sugar
Olive oil
Ginger root (approx. 2 cm)
1 tbsp lemon

Sugar cane
A saucepan
Butcher's twine
A perforated grill plate
Peel a mango and cut the flesh into small cubes. Remove the seeds from the red pepper and slice into thin rings. Peel and finely chop the onion, ginger and garlic.

Put a little olive oil in a saucepan and heat it on the braai together with the mango, onion and garlic. After 10 minutes, add the pepper, cloves and ginger and let it simmer for 30 minutes. Add the sugar and leave to simmer for another 10 minutes. Remove the pan from the braai and season with some lemon juice.

Divide the sugar cane into four equal pieces. This is best done with a saw. Scratch off the protective layer of (candle) fat from the cane with a knife and cut it into thin slices of about 3 millimetres. Pour a few drops of soy sauce over the tournedos and wrap them in the slices of cane. Tie them up tightly with butcher's twine and leave the flavours to infuse for a while.

Cut or break the bottom of the green asparagus and place it on a grill plate. Drizzle with some olive oil and rub in well.

Make sure the braai is hot and place the grill on the second lowest setting. Grill the wrapped tenderloin for a few minutes (4 to 5) per side and move the grill to the top position. Let the meat cook for about another 5 minutes. Meanwhile, grill the green asparagus and sprinkle it with some sesame seeds. If necessary, heat the mango chutney on the grill. Serve the meat still wrapped on the plates.